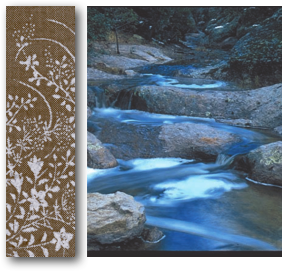 … and that is the way 
with the river when a
current is running: 
    once the 
           connection 
    with the shore 
               is broken,
the journey has begun.
—Wendell Berry
   With an unwavering belief that there is pure gold at the heart of our nature and an eye to the conditioned patterns that limit us, I create an environment where change can happen. I have practiced both psychology and meditation, Zen and Vipassana, for nearly three decades and was trained by Jim and Elizabeth Bugental in existential-humanistic psychotherapy. Later I added training in Jungian and sandplay studies. I have been fascinated by the mind and who we are and psychology alone does not understand the mind thoroughly enough. My psychotherapeutic approach draws from all of these psychological and meditation practices as well as my teaching experiences in each of these domains. I use various meditation methods as clinical tools when appropriate. I understand how the mind in both a psychological and a spiritual sense can heal the suffering that clients experience in their lives, whether individuals, couples or children. I value the warmth and engagement of the process of psychotherapy and have my private practice office in Santa Rosa, CA. I teach workshops and offer consultation on the blending of spirituality and depth psychology.
    If you wish to learn more about how therapy might benefit you, the various treatment approaches I use, an area of speciality in my practice or wish to contact me, you are invited to follow one of the links on the left of this page.